Website: http://dikshaschoolindia.org/
Address:
DIKSHA School
HUDA Building,
E- Block (Near E-2184),
Palam Vihar, Gurugram, Haryana
Introduction:
DIKSHA is an NGO that runs a non-profit school in Palam Vihar, Gurugram, Haryana, India established to provide free and quality education to children from low-income families in the neighborhood.
A core group of volunteers and paid teachers with the support of donors from the community have created a safe, stimulating learning environment that allows over 420 children from disadvantaged families to develop a healthy body and mind. Children are nurtured with respect and taught to be responsible citizens in today's world. CBSE based academic education is provided by our teachers who receive on-going professional development and are mentored by experienced volunteers. Children are encouraged to learn a variety of extra-curricular activities such as folk art, dance, drama, music, Life-skills and yoga and participate in inter-house and inter-NGO Sports Events.
DIKSHA supplies a nutritious mid-day meal (prepared on the premises daily) and a snack for each child in addition to uniforms, shoes, and books. Periodic dental and medical check-up is given to all students by volunteering organizations and doctors.
Parents are an integral part of Diksha and participate in regular parent-teacher meetings and workshops on hygiene, nutrition, and non-violence. They are also encouraged to lend their expertise to support the school.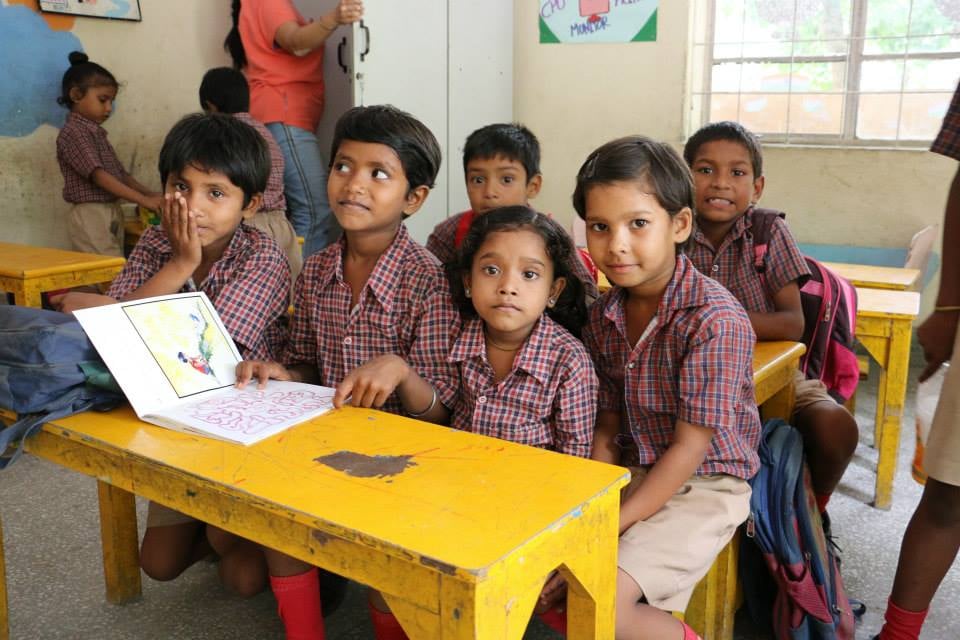 Our take on Diksha:
Diksha School is a labour of love. The commitment of the founders and the team is evident in everything, you see in in the smiles of the children, in the way they carry themselves, their confidence… every teacher has retained a twinkle in their eyes through ups and downs and the corona years where they adapted and taught online for a fraction of their salaries, arranging tabs for each child to be able to study online… they are all a part of something bigger, they are going good, they are committed, they are involved… No body at Diksha School is just doing a job, they are all here to make a difference!
Founded by a former Air Force pilot, Captain (Retd) Rajesh Sharan and his wife, Shanta Sharan, Diksha began with only 13 children who had no means to support their education. Further, the children were found to be malnourished and would come to school without having proper breakfast. This was because their parents were daily wage earners who were required to leave for work early in the morning and come back only in the evening. Due to this, the children fell sick more often than usual and hence the duo realised that besides education they needed to provide these children with nutrition as well.
Today the school has two full-time cooks who prepare wholesome meals and serve them to the students. The meals are also tasted by a designated team of volunteers before they are served. The menu is designed in such a way that it meets the nutritional needs of the children. Speaking to NDTV, Principal, Vandana Aneja said, "The lunch usually includes legumes, sambhar, rice, khichdi, and vegetables. We try to make the food wholesome. We can't give them chapatis because cooking chapatis for 410 children and providing them on time is not possible now. We try to put in variety like dal-palak, idli, soya chunks."
In a day, the cook utilises 16 kg of rice, 14 kg of lentils and six to eight kgs of vegetables, which costs Rs 3,500. To fund the initiative and the schools' efforts, the team gathers financial support from volunteers, neighbours, and corporates through fundraising campaigns.
The children are taught English and Hindi, Mathematics, Science, Humanities, Commerce, Computers and Fine Arts. There are up to 30 children in each class with one to two teachers depending on the age group. Qualified volunteers provide instruction individually or in small groups to support the academic growth of weaker children to bring them up to par with their class. They participate in sports and extra curricular activities, develop confidence and have fun, all the while learning to present themselves in an increasingly competitive world.
Diksha is struggling to maintain operations in the post covid scenario. You can donate to Diksha through their website.