Jamini and her 3 children
Introduction:
Jamini lost her husband to corona in 2021. She has 3 small children to support and no means of income. There is no land, no family support and the children are too young for her to be able to take up a job.
Her's was a love marriage. Her husband Raj Kumar was a medical attendant and care giver who had spent year after year of his life caring for the sick. He fell in love with Jamini, a christian girl and married her. Families from both sides abandoned the couple and their children. Through sheer hard work and perseverance Raj Kumar was able to build a small house in his village (near Almora district in Uttrakhand) where he felt his family could live in peace, no one could throw them out now, no one would make them feel abandoned! In fact, if there was one promise he took from his wife before dying, it was to never leave this house he had built for them!
Little did he know what fate had in store. Raj Kumar's youngest child was only 11 months old when he passed away. The girls were 3 and 9. Jamini was left to fend for herself and her children.

Tvisha has been sending a monthly stipend to Jamini to support her children's health, nutrition and educational needs. The pradhan of her village has assured her that she is eligible for a pension being given by the state to the widows of those who had died with covid, but the paperwork is taking long and she is having to run pillar to post getting things in order.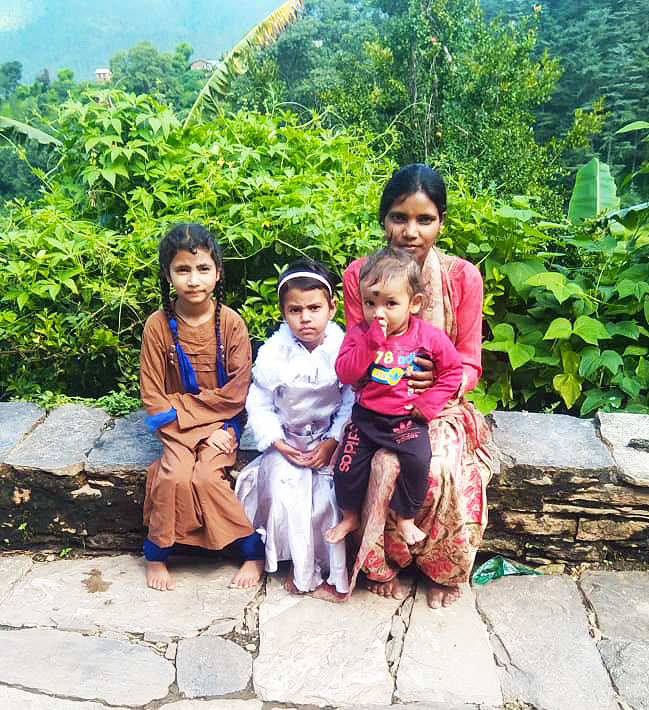 Tvisha is committed to support Jamini and her children for a year while she gets her paperwork in place to be eligible for a government pension. Please contribute generously to help Jamini and others like her.